Tall Cedars of Lebanon NA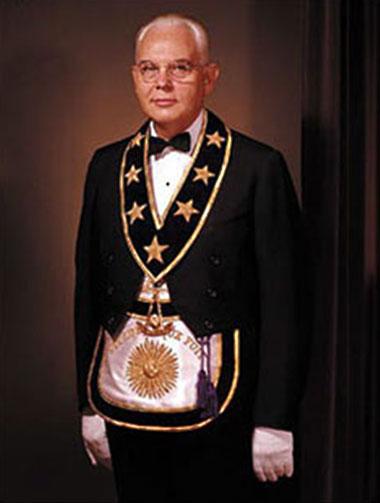 Brother Hiram P. Ball, Tall Cedar
Masons and Tall Cedars
Tall Cedars of Lebanon of North America is an appendant Masonic organization devoted to fostering friendship and fellowship among Freemasons and to all mankind. We are over 10,000 members with an unyielding commitment to provide a "place in the sun" for those many thousands of victims of neuromuscular diseases who, through their own means, may not be able to share and enjoy the experiences of life that we so often are able to take for granted. It is to promote wider acquaintances and friendship among men already bound together by fraternal vows: To perpetuate itself as a fraternal and social organization, and to provide for its orderly government.
It all started in 1843 with some very energetic and imaginative Master Masons who dreamed up the idea of a Tall Cedar Degree, and in those days the degree was called " The Ancient and Honorable Rite of Humility." The name "Tall Cedar Degree" does not reveal itself other than the possibility of a somewhat shorter title than the aforementioned, and this was to remain as such until we adopted the title of " Tall Cedars of Lebanon of the United States of America" upon incorporation in 1902.
Four Master Masons who received the Tall Cedar Degree later became Supreme Tall Cedars, They were Frank W. Bowen, and Orlando M. Bowen in 1887, David H. Lukens in 1888, and Johns S. Broughton in 1889. The above brethren along with several others (fifteen in all, charter members of our organization) assembled in the State Capitol of New Jersey, in the City of Trenton, on March 18, 1902 for the purpose of establishing a fraternal order to be know as the Tall Cedars of Lebanon of America for fun, frolic, and fellowship. These brethren felt that since this form of friendship and sociability occurred so infrequently and had little form, that by incorporating they could eliminate the haphazard, disorganized methods of conferring the Tall cedar Degree and thus stabilize and preserve a worthwhile ceremony.
When the Metabolism Unity of the Research Center was closed in 1972 the Supreme Forest was advised that the Muscular Dystrophy Association and the Muscular Dystrophy Association of America were going to submit monies in the form of research grants to various universities and colleges in the search and cure for muscular dystrophy, and they would welcome our support in this endeavor. It was decided that the Tall Cedars of Lebanon of North America would become a part of this project with the Jerry Lewis Tall Cedar Day Camp in the summertime. Thus while one aspect of our National Charitable Objective fades away another on come into the forefront with the possible finding of a cure for the dreaded disease through the project and to provide for a little bit of fun for these children in the summertime.
Source: Tall Cedars of Lebanon North America, http://www.tallcedars.org/index.html