Child ID Program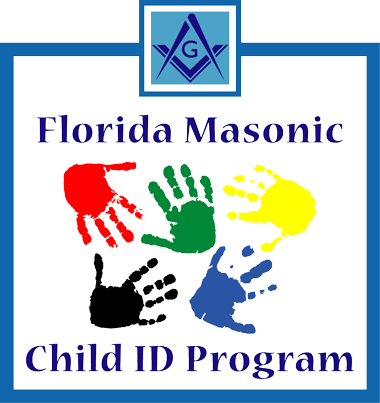 What is the Child ID Program?
The Grand Lodge of Free and Accepted Masons of the State of Florida initiated the Florida Masonic Child ID Program in 1997. During the preceding eighteen (18) years, Masonic Lodges throughout the State of Florida have provided FREE of charge child identification kits to hundreds of thousands of families.
The Florida Masonic Child ID Program has exemplary volunteers. It is focused on prevention, and provides a kit that enables parents/guardians with the capability to quickly distribute digital information. It promotes education for parents and children, and is completely FREE. The program equips law enforcement with vital information to assist their efforts when searching for a missing person. It contains up-to-date quality photos, medical information, physical characteristics, and contact information. The digital fingerprints can be used to help locate a missing person in a variety of ways including licensing, registrations, certifications, employment, law enforcement, and volunteering at a church or school.
In 2015, the Florida Masonic Child ID established the Facebook-site Florida Masonic Child ID Program. This site has the potential to expand the program by increased exposure with the public and organizations that are committed to child safety. Participation from the Zone and District Committeemen is required for these sites to be successful. Success can be measured through increased participation from a civic, church, school, or other organization. It can be measured financially with the receipt of a grant or other financial assistance. It can be measured a success to a Lodge by assisting with increased membership. Private sites were also created to enable the District and Zone Committeemen the ability to share information. Please note rules have been established that govern the contents of the sites.
A Child ID event is one of the most important and useful public relations activities available to the Fraternity. Events educate the public about the Fraternity's commitment to charity. They display community involvement, set the Craft to work, and are the beginning for the membership process. At a Child ID event, professionals, young adults, and their families witness Masonry and can learn about the Fraternity through a learned Brother who can talk comfortably with others. Our Brothers, their families, and friends continue to donate their time and resources, making the Florida Masonic Child ID Program a Hallmark. Lodges and Districts support each other and welcome assisting with new Child ID Programs.